Return to Top
Overview
The CenterEdge Hybrid Tablet is an all in one tablet solution that replaces our legacy Quest III Tablets. It offers access to the full Advantage Suite of Software and functions as a mobile POS station among other uses. The device can be used anywhere on-premise that has WiFi connectivity and acts as a freestanding station when attached to its charging base, hence its hybrid status.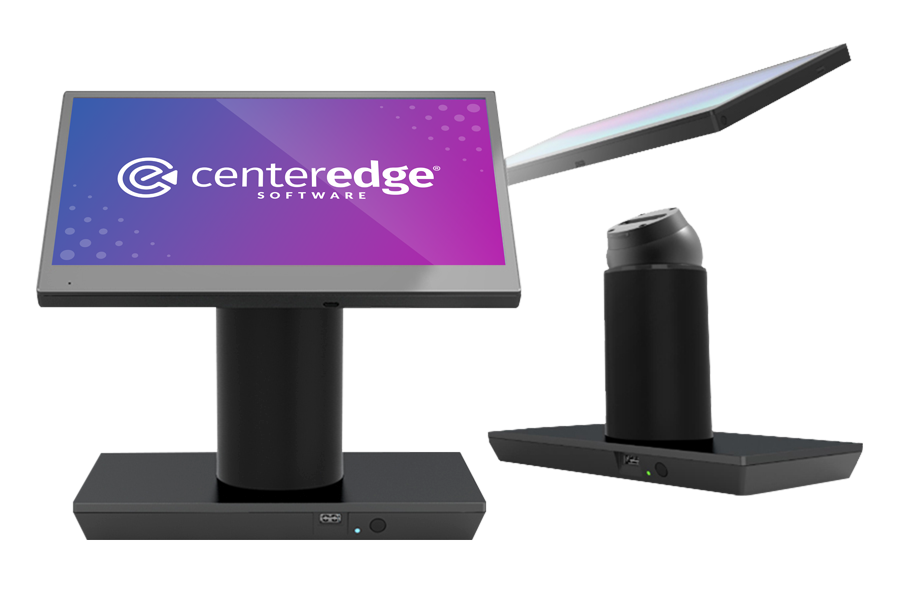 Specifications
11.6" projected capacitive LED touchscreen LCD display
Swivel charging stand with USB 3.0, Serial, LAN (wired network), Cash Drawer Aand DC jack connections.
Celeron J6412 2Ghz processor
8G RAM
Support for MSR, fingerprint reader, or EMV peripherals
Requirements
Advantage version 23.1 LTS or higher.
Windows 11 Enterprise loT GAC operating system
Accessories
2D barcode scanner
Ruggedized case
Shoulder Strap
One of the following:

NFC (Near Field Communication)
MSR (Magstripe Reader)
Fingerprint Reader
Features
Customizable Configurations
When paired with a ruggedized case and a shoulder strap, the CenterEdge Hybrid tablet allows users to move freely among guests, processing transactions and taking payments anywhere at the facility. The tablet offers greatly improved WiFi performance and a battery life of 2-3 hours of continuous use. When it is time to charge, its base is equipped with an electronic lock to transition the device to a stable, stationary POS. A one touch release button allows for quick removal when it is needed again on the move.
Flexible Sales
The CenterEdge Hybrid Tablet gives users full access to the Advantage Sales platform so you can sell anywhere onsite. Sell attractions and admissions, food and beverage, or anything else with a new handheld point of sale station. Step away from the counter and provide your guests with the personalized experiences that earn their loyalty and grow your revenue.
Accelerated Guest Check-In Processes
The CenterEdge Hybrid Tablet allows you to position staff to perform waiver, attraction, and passholder verification wherever needed to manage flow more efficiently. With full access to Admissions & Attractions Management Software, check in party guests, scan admission or attraction tickets, and help guests play faster. Reduce wait time and improve guest experience.

Improved Product/Inventory Management
Take Advantage Console with you during audits, when receiving inventory, and creating and sending purchase orders. The CenterEdge Hybrid Tablet provides full access to Advantage's inventory management, making the process mobile and reducing room for error.
Seamless Event Management
During events, you'll never have to step away to run to the point of sale. You or a server can take food and beverage orders to be sent directly to the kitchen and be delivered by runners so you don't have to interrupt your guests' fun. Equip your party hosts with mobile point of sale stations and never miss another sales opportunity again with full access to Advantage Events.
Use Cases and Compatibility
The CenterEdge Hybrid Tablet runs Advantage software and supports Advantage Sales, Advantage Events, Advantage Console, and CenterEdge Payments (via external Link/2500 PIN pad). The device is ideal for performing outdoor food and beverage sales, line busting, covering wide areas where a fixed POS isn't available, and varying service location based on customer time and need. It is also useful for referencing capacity information and area schedules on the fly and can even be used for access control.
First Look and More Information
If you choose to add the CenterEdge Hybrid tablet to your suite of tools, it will arrive with the software pre-installed. The only additional requirement is a stable internet connection, which will allow our team to remotely configure the device to work with your database, a process you can schedule ahead of time.