Return to Top

CenterEdge Business Intelligence is a resource in Stage (a cloud based online platform we offer to interact with multiple sites via a web browser) that allows you to see graph data for your site or associated sites in a centralized location. Access it by clicking Dashboard when you log in to Stage. If you have multiple locations, you can select between them using a pull-down at the upper middle of the screen.





The tool has eight tabs with data related to the corresponding categories: Overview, Sales, Admissions, Events, Customers, Labor, Employees, and Area Utilization. At the top of each tab there are customizable parameters, or filters, such as Currency, Date, DivisionName, and others. These options vary by tab, but if you change the value of a filter, for example Division Name, all instances of that filter on any tab will change to have the same value. Using filters helps you narrow down data results.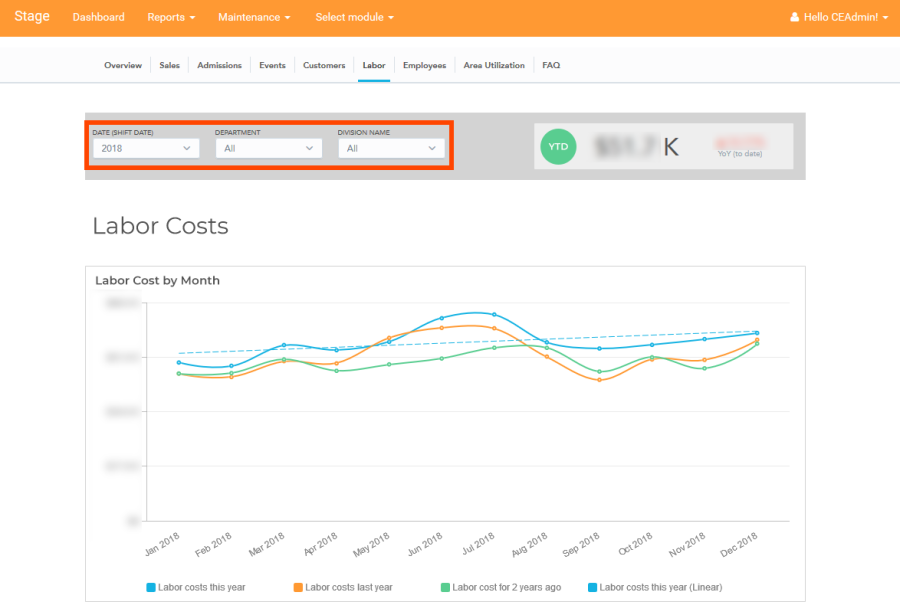 If you customize any filters, and you think you will use the same ones again, you can save a View to prevent having to re-adjust them manually in the future. To save and revert to Views, you will use the pull-down in the top right. This field will either read *Unsaved View or it will contain the name of your current view, which includes the Default View. An arrow next to the name indicates you can click it to show a list of options.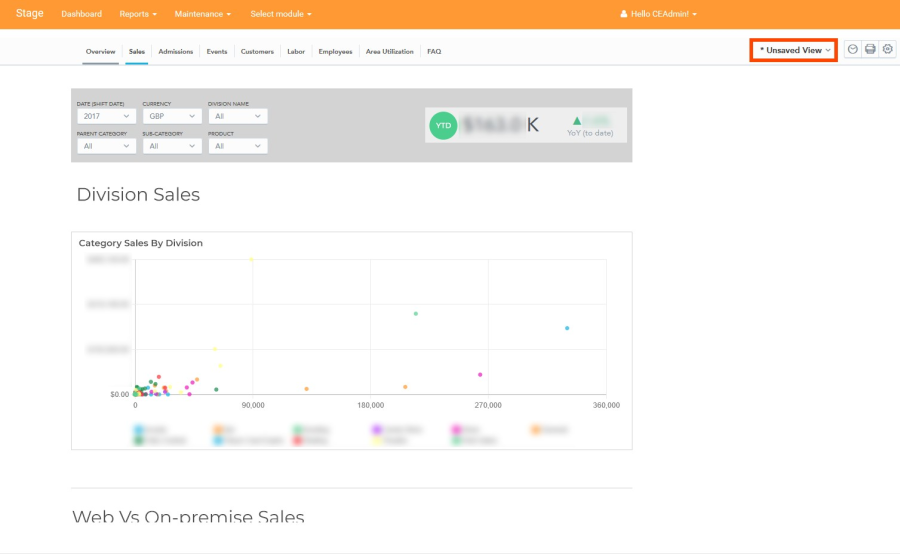 If you have changed any parameters in your current view, you can click Save current view... from this list to store those changes.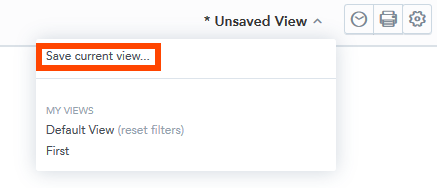 The Save current view window contains a field to Name the view. You should enter something that will help you remember what the view shows. Below this are a series of check boxes to select what Filters to include in the save. Once you save, if you switch to that view later, the deselected filters will retain the values they contained before the switch. Below the check boxes, there is text reminding you that nobody else can see views you create. Click Save.

To reload a view, click the pull-down at the top right again. Select the view name or reset all the filters by selecting Default View.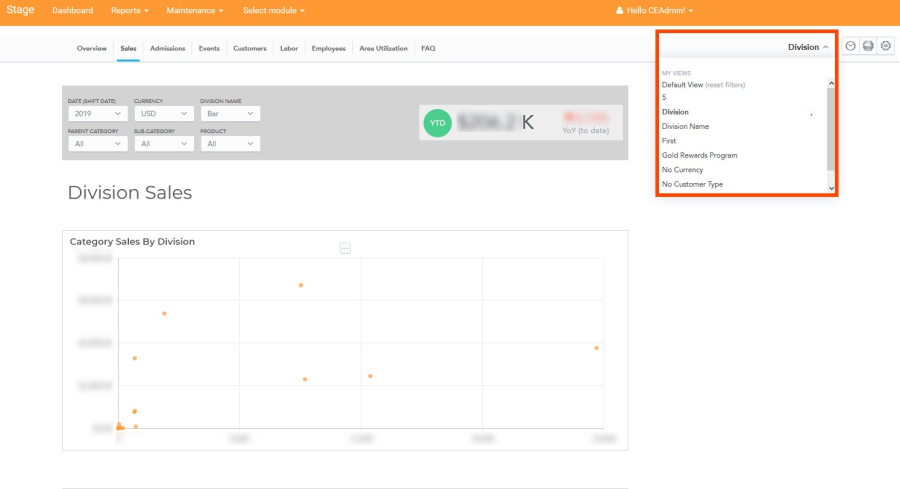 Most graphs on each tab have areas you can hover over for more information, or click to drill down and see a further breakdown of data. Clickable areas include line chart data points, pie chart slices, bar chart bars, and table cells. Within these second level graphs, you can also often click an area to drill down even further. All areas from which you can drill down will change your cursor to a pointer when you hover over them.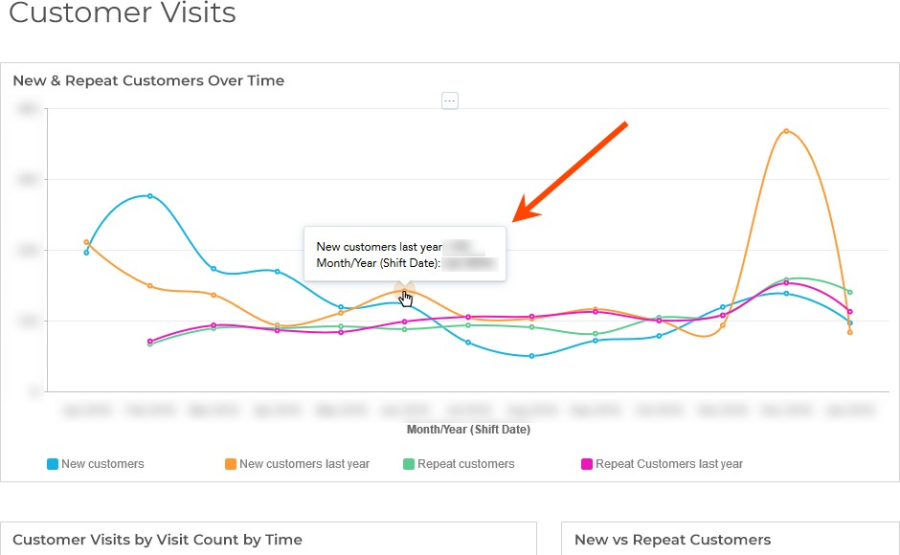 Many second and third level graphs give you several graph type options to let you view the information in a different form. These include some combination of Table, Line Chart, Bar Chart, Stacked Bar Chart, and/or Pie Chart types. Click the icons that represent each to switch between them. Hovering over one will display which kind it is in text.




When you hover over any first level graph, or standalone numeric value, an ellipses icon appears.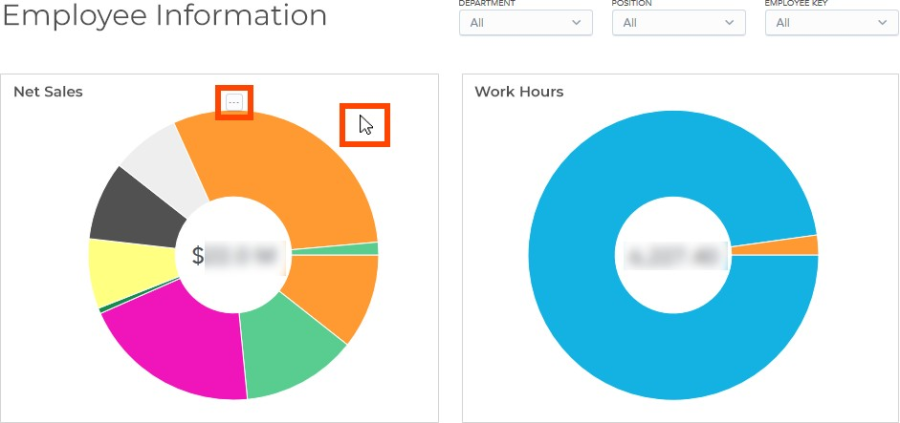 In subsequent levels, the icon displays in the top left without requiring you hover over anything.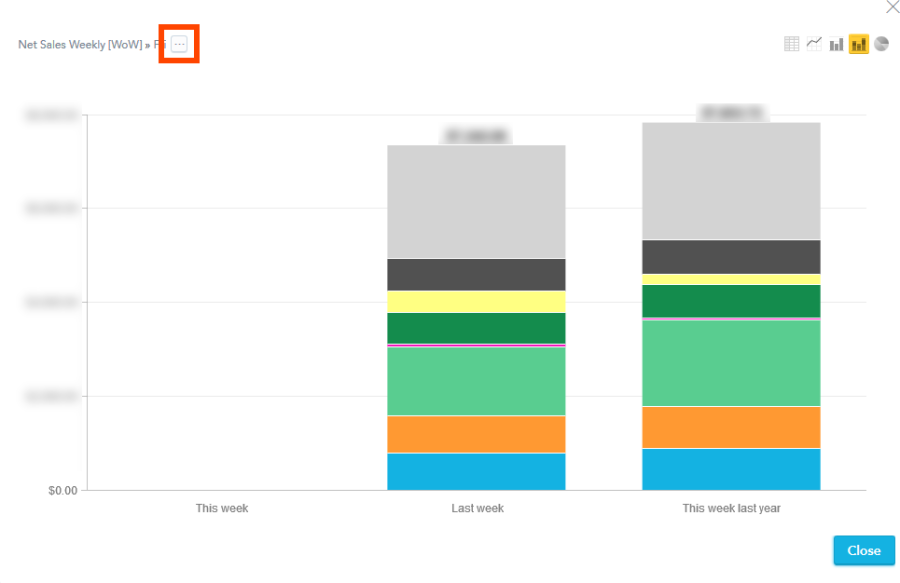 Clicking any of these brings up a window with a Metrics & Filters field and a Download As... field. You can click Metrics & Filters to expand it, which displays the Metrics (what data is being reported) and the Filters being used in the file you are about to download.

Select a file type from the Download As... pull-down list. Both CSV types download only the numeric values represented in the graph. CSV (formatted) downloads only the data fitting the filters you provided, while CSV (raw data) removes the filters and downloads all data. XLSX gives you the option to include the filter names and whether to Keep attribute cells merged, and PNG downloads an image of the graph exactly as it looks in the BI Tool. The PDF file that generates has editable text and the graph is a vector image, so you can enlarge it as much as you want without pixelization.
In addition to these functions on individual graphs, there is a toolbar at the top right with options related to the entire tab.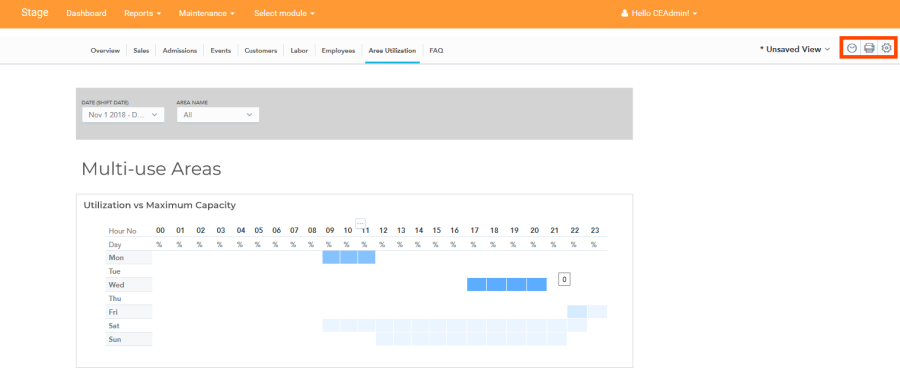 The clock icon opens the Email Dashboard, from which you can schedule to email one or more tabs, which will send data with the current filters applied. The name of the location from which you are sending data appears at the top for verification. You can choose whether it sends Daily, Weekly, or Monthly from the Repeats pull-down list. Select a Time you want the email to send, and, if necessary, click the text below to Define a custom subject and message. Below this, a message states how often and when your email will send so you can confirm your settings are correct. Clicking Schedule will begin the email distribution to the email address associated with the account that is currently logged in. The attached file will be in PDF format.

Each email has an option at the top to Click Here if you want to stop receiving the emails.
Back on the main page, the printer icon downloads a PDF file of the entire tab, which you can then print out. All images in the original tab that were vector images will remain vector images in the PDF file, so most elements will scale without pixelization.
The gear icon also offers you a choice to download a PDF of the entire tab, which is the same as the PDF the printer icon downloads. There is also an option to download an XLSX file. Just like when downloading individual graphs, you have the option to include the names of the filters you have applied and whether to Keep attribute cells merged. Each area of information will show as a separate sheet in the document.
Overall, BI Tool data updates about every 24 hours, so it is not meant to be used for data that needs to reflect more recent information. Use Reports in Manager Console for this.