Return to Top
The following is a list of new features that are in the Version 22 LTS release of Advantage, as well as recent updates to our other services this past year.
CenterEdge Payments
Added token groups that allow many sites to retain their membership payment information when switching.
Ability to use the signature capture feature on Lane 5000 and 7000 PIN pads.
Advantage Memberships
Memberships sold online are active immediately.
Customizable number of days to retry upon failed payment.
Ability to freeze a membership.
Admins can create and members can choose between multiple different billing terms.
Advantage Kiosk
Kiosk Interface
Ability to sell CenterEdge/Embed cards at the kiosk.
Added an animation to the mini-cart when an item is added to the cart, which slides up from the bottom of the screen when the first item is added to the card.
If there are fewer than four buttons on a screen, and the kiosk is in portrait orientation, the buttons will be wider to accommodate more text.
Added helper text to card swipe screen, when loading a pass or game card.
Multiple capacity tickets allowed to be purchased for the same person in the same area.
Ability to print barcode tickets for the kiosk that do not have to be picked up at the POS.
Added station name and number to waiver PDF, which allows you to see where a waiver was signed.
Ability to look up more than one waiver in a transaction.
Updated waiver UI.

Support for all countries when signing a waiver.
Updated sort order for list of countries when signing a waiver
Changed the "state" label to "state/province" and changed the "zip" label to "postal code".
Users prevented from selecting a waiver that has already been selected.
Ability to deactivate a PIN pad from the kiosk's setup menu.
Waiver kiosk header is customizable.
Support for international phone numbers at the kiosk and when signing waivers online
Online waiver redesign to make the application more mobile friendly.
Admin Portal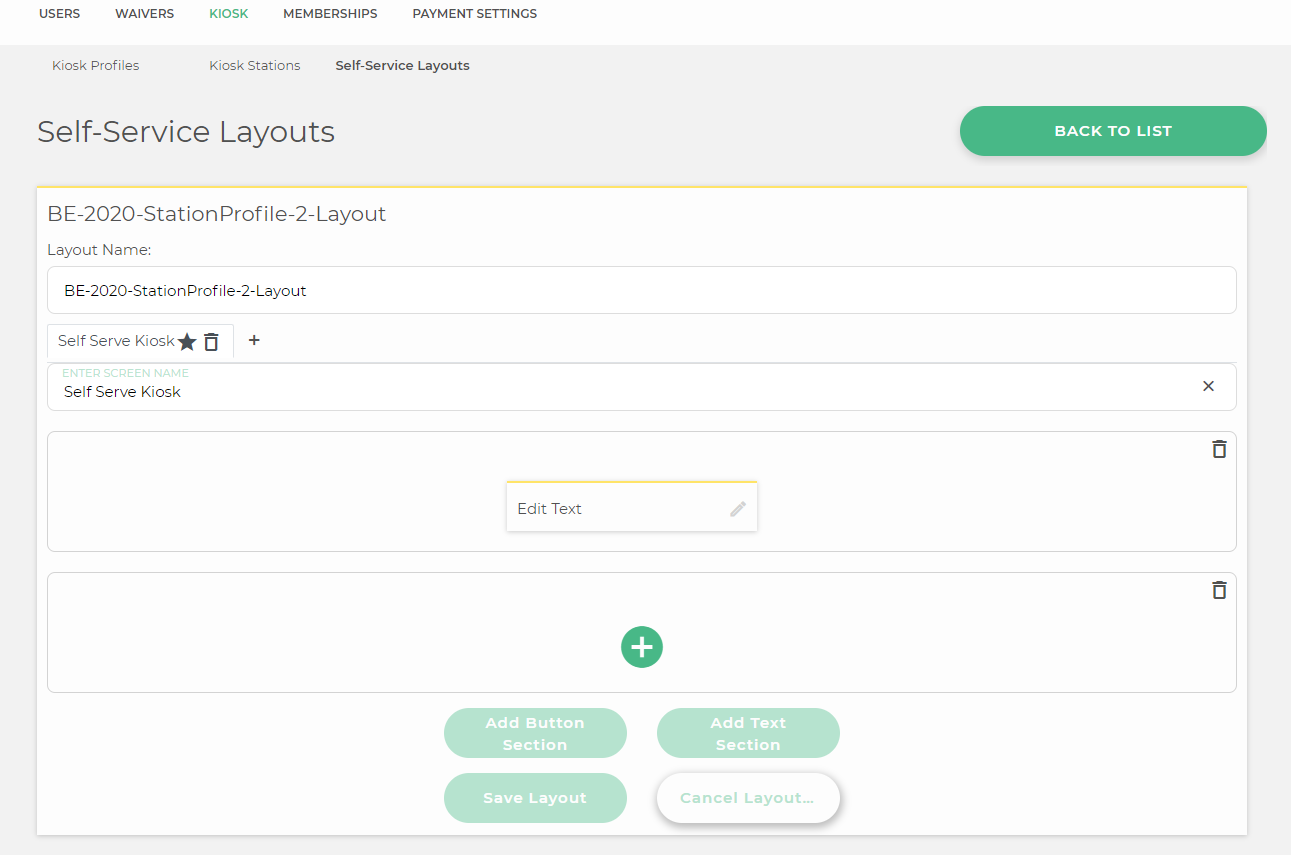 Ability to drag and drop buttons on your kiosk screens to change their order.
Ability to add text sections to your kiosk screens with customizable HTML.
Ability to select which screen on your layout is the first screen that appears on the kiosk.
Ability to copy self-service layouts.
Only active items show when searching for inventory items in the Admin Portal.
The Self Serve Kiosk profile type allows for selling items without giving the option to sign a waiver.
Advantage Local
Hardware
Cash back feature added to Ingenico Devices.
Support for the DataLogic Gryphon GD4500 Scanner.
Full EMV support for the ID Tech's MiniSmart II reader.
Support for the Link/2500 PIN Pad.
Support for the Lane 3000 and Lane 5000 PIN pad.
Touch dynamic tablets with NFC readers can scan NFC cards with the exception of Embed cards.
POS
Ability to change prices by line item in a POS transaction and a security right for this feature (available by request).
Ability to display Advantage Membership agreements on the POS.
Ability to enlarge a customer picture by clicking its thumbnail.
Added warning to alert the cashier when a legacy membership is redeemed, after the site has moved to Advantage Memberships.
The Print Card Button on the customer Picture tab can be used to print Advantage Membership cards.

Better handling of split check quantities with respect to inventory and sales.
Player Cards and Passes
Semnox Card system integration.

Improvements in the handling of deferred revenue for passes.
Sacoa amount limits eliminated.
Manager Console
Sales Detail Tax Rate Report Improvements.
Popup warning about potential legal requirements when enrolling biometric data.
Pick up at Counter option added in Item Maintenance.
General
Medical and injury information fields added to customer setup.
Daycare/camps module removed.
An upgrade will not be initiated if the server has a pending reboot (e.g. for windows updates) .
Customer images will be stored in the cloud.
Various performance improvements and bug fixes.